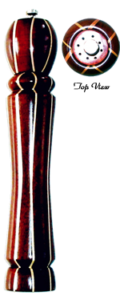 Customize Your Unique Exotic Wood Pepper Mill Art Object
We will design a pepper mill with the woods and materials of your choice to blend with the décor of your kitchen or dining area. A rendering will be sent to you before the pepper mill is created. All custom orders require a non-refundable deposit of 25% with the remainder due upon completion. Please allow 3-4 weeks for your products to arrive after they have been ordered.
Salt Shakers and Salt Grinders
Upon request we will make a salt shaker or grinder to closely match the pepper mill of your choice. They are available in sizes from 6″-10″. Also we can make a combination salt shaker-pepper grinder in your choice of woods. The mill at left is an example of a combination. The top is the salt shaker and the base is the pepper grinder.