Pepper Mills of Distinction
One of a kind Designer Pepper Mills
by Philip Fleishman M.D.
Hand-Crafted From the Finest Exotic Woods Available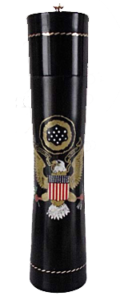 Welcome to Pepper Mills of Distinction. Each pepper mill is individually handcrafted, and signed by gifted artist Philip Fleishman, M.D. No two pepper mills are ever created the same. They are unique and distinctive. Hence the name "Pepper Mills of Distinction." Each pepper mill is crafted from hand-picked exotic woods and rich inlay materials collected from around the world.
The woods are carefully selected for their color and grain patterns while the inlay materials are chosen to accentuate the naturalbeauty of each of the woods which include: African Paduak, Bloodwood, Bubinga, Chakte Kok, Chakte Viga, Chechen, Cocobolo, Gaboon Ebony, Macassar Ebony, Hard Maple, Lacewood, Mesquite, Peruba Rosa, Purple Heart, Tulipwood, Walnut, Wenge, Zebrawood, and others.
More details of each of these exotic woods are available in our About Our Pepper Mills section.
Visit our Gallery to see the current selection of pepper mills. The selections change constantly as products are sold and replaced with new designs. Custom pepper mills, salt shakers and salt grinders can also be ordered and made from your choice of materials to match your kitchen or dining room décor.